Gearing up for the Future
As the world adapts to the new norm with much of the workforce moving to remote operations, the industry is having to reshape its entire value chain, and companies are restructuring in order to stay competitive. With travel limitations and the closure of production factories, there is an urgent need for new, innovative strategies that provide long-term agility as well as prepare for any future uncertainties.
When Going Digital Is the Only Way Forward
Key players in the industry are now having to consider adopting digital alternatives from design and manufacturing all the way through to sales and merchandising, as a way to continue moving forward. As the traditional wholesale buying process has come to a halt, wholesale buyers have to rethink the standard purchasing method as well as cut back on costs. Undoubtedly, when it comes to selling, perhaps this has been one of the most significant challenges for brands and suppliers, and that's where the concept of digital showrooms comes into play. When companies are unable to conduct in-person meetings, virtual replacements appear to be the only feasible solution.
The Need for Virtual Showrooms
At Browzwear, we collaborate with innovative companies that share our goal in establishing an entirely digitized apparel workflow and, through combined efforts, make it a reality. One of our long-standing partners, ByondXR , specializes in providing interactive, high visual, and cross-functional virtual showrooms. Whether you are reviewing designs internally or presenting your collections to buyers, you can seamlessly showcase your digital apparel collections in a life-like setting, designed to mirror the physical purchasing experience. Therefore, allowing the selling process to be carried out with digital garments only, giving buyers a unique and ultimately replace the physical process. Moving to a virtual showroom also means that pricing can be aligned across the board, which works to eliminate any uncertainty or misunderstandings when it comes to calculating costs. A mutual client, Delta Galil recently began to utilize digital showrooms, incorporating their Browzwear 3D garments into ByondXR's digital showroom.
Making It Happen with True-to-life 3D
With ByondXR's platform, the 3D garments created in Browzwear's VStitcher can be displayed in a real-life setting. To make it even simpler, users have the unique ability to showcase their interactive virtual garments in glTF format, without having to create a fully 3D garment through an external software, significantly cutting down both time and costs.
As the digital garments are true-to-life, they are uncompromisingly identical to the physical pieces, buyers will no longer require access to the touch and feel. Therefore, smarter and faster decisions can be made over digital garments without needing to have access to the physical product. This works to boost buyer confidence as well as provide peace of mind, leaving more room for collaboration between global stakeholders who previously may have needed to travel overseas to fully participate in the process.
"The combined integrated solution lets us provide Browzwear customers with the easiest way to utilize their 3D designs as a building block in any sales or design presentation within the organization –hence really increasing the overall ROI of their work" – Eran Galil, CTO, ByondXR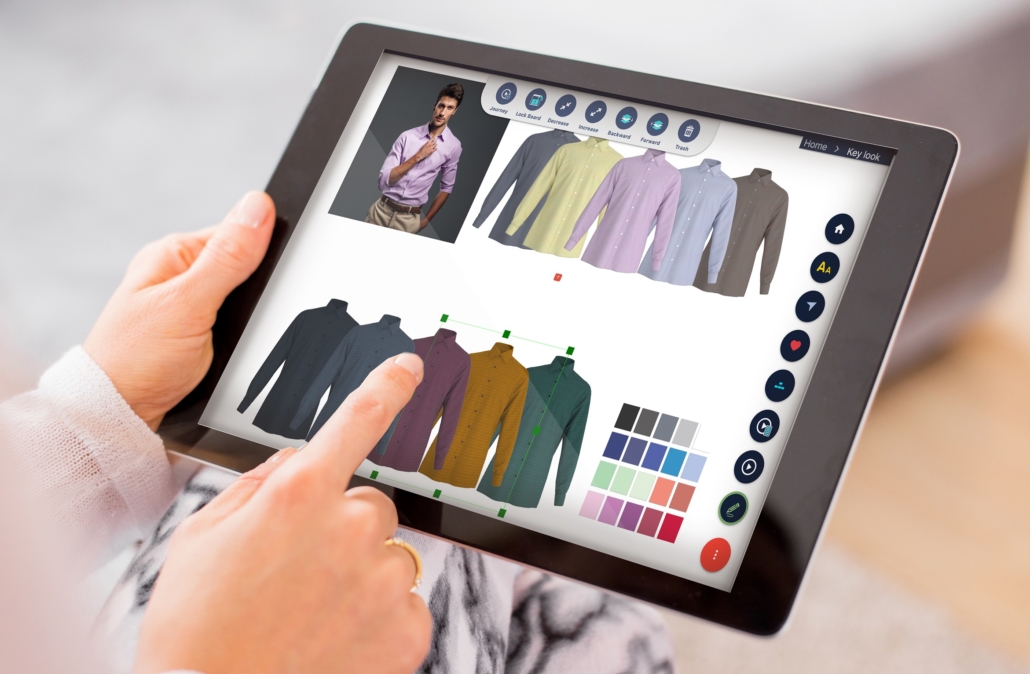 Create Your Own Showroom
As a way to help apparel companies accelerate their adoption of 3D apparel design and create an end-to-end digital workflow, Browzwear and ByondXR are offering all Browzwear customers the opportunity to create a free demo showroom on the ByondXR platform. Through seamless integration, Browzwear users can simply export their glTF file designs from VStitcher and upload them through drag-and-drop UI to the digital catalog. From there, any presentation using the catalog item automatically has access to the 3D model as well the ability to use the same optimized viewing preferences as in Browzwear. Seeing your own designs in a virtual showroom enables users to realize the full potential of this joint solution and better plan the next steps. Learn more on ByondXR's partner page.