Kitty Yeung , featured in the Top 100 Women in Fashion Tech Women of Wearables , is a physicist who has a passion for art and fashion. While working as a Quantum Architect at Microsoft, Kitty pursued her love for science and art by creating her own sustainable fashion brand, Art by Physicist , where she integrated her in-depth knowledge of science into the design of her garments in order to create a unique user experience.
With extensive research, Kitty looked for ways to reduce the amount of waste associated with over-production, strongly advocating for the industry to embrace technological innovation to build an ecosystem that allows the fashion industry to implement a made-to-order approach.
After discovering Browzwear's 3D fashion design software, Kitty was eager to digitize much of her design process, "By utilizing Browzwear's technology, I can now simulate all my upcoming designs in 3D, utilizing a suite of 3D CAD tools first before I start making them physically," she says.
"I think the long-term vision is that we will be able to have 3D digital twins of every single physical product that is designed and can be produced anytime there is demand, resulting in reduced over-production."," says Kitty.
We were thrilled to have had the opportunity to sit down with Kitty to gain insight into her inspiring journey as she continues to make a sustainable impact within the fashion industry through the unique and powerful combination of technology, fashion, and art.
Be sure to keep up with Kitty's innovations:
LinkedIn | Instagram | Website
"Tech fashion means two things to me, one is applying technology into the clothes, and the other is using technology to help the supply chain change the way garments are produced. Technology is revolutionizing the entire fashion industry, shifting it from the old mass-production model to an on-demand model."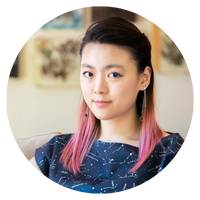 Senior Quantum Architect
Kitty Yeung