Whether you're drafting new concepts or working on your latest collection, we all know the struggles of keeping up with apparel the calendar. To combat this challenge and facilitate a fast and fluid digital design workflow, we're excited to have launched the first drop of our latest 3D CAD block library to help get you ahead of the game, while maximizing your creativity.
From swimwear to outwear, the 3D CAD Block Library, now available to all VStitcher and Lotta 2021.2 Edition users , contains an assortment of designed and ready-to-use, nongraded essential styles for both men and women to spark your imagination. This gives designers the ability to edit, adjust, and customize each garment's colors, patterns, and prints in order to realize their design concept within seconds.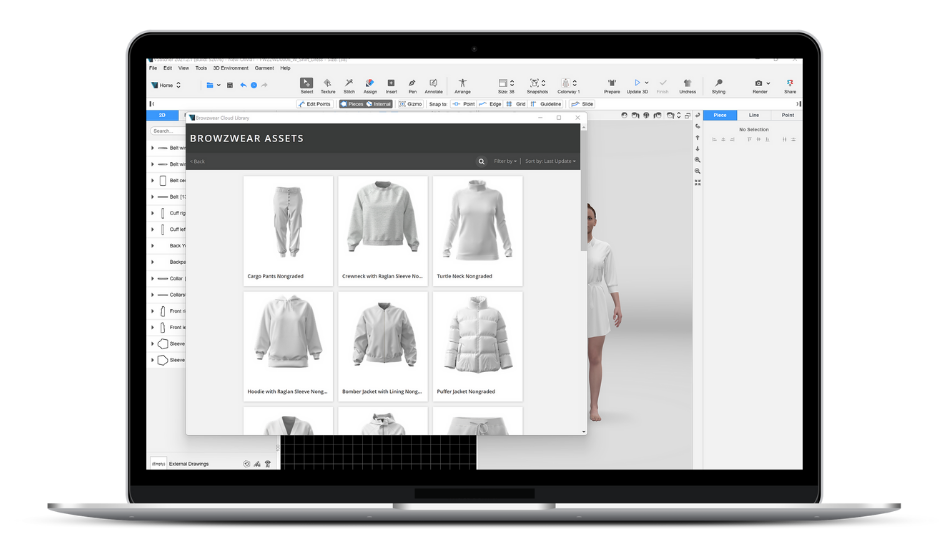 To access the library, simply go to File > Import from Cloud , and you'll find the latest blocks in the men's and women's boards.
By taking advantage of pre-made 3D garment blocks, designers can eliminate a significant amount of time and resources often encountered throughout the design cycle , without having to start from scratch each time .
It doesn't stop here, we'll be expanding the existing library as well as launching product-specific libraries including an exclusive denim library, so be sure to keep an eye out for what's to come.
For more information, or to explore other asset libraries, check out the Browzwear Help Center .