NEW YORK (PRWEB) JUNE 02, 2020
Browzwear , a global leader in 3D technology for the apparel industry, today announced the new "designer forward" features and functionality now available with VStitcher and Lotta. In a continuation of their goal to help businesses drive efficiencies, reduce sample production and speed time to market leveraging 3D design, the May Edition focuses on capabilities that make it faster and easier for designers to create and collaborate using 3D tools.
Highlights of the many powerful new capabilities included in the product update are: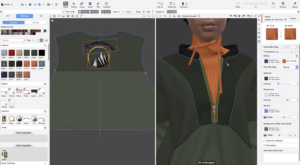 Hyper-realistic visualizations: The native integration of Substance by Adobe brings the most realistic visualization of materials, and enables full freedom to design and visualize print executions down to the finest 3D surface details, powered by vector-based fabric
imaging that supports scaling and manipulating without degrading quality.
One-click, cloud-based V-Ray rendering: Browzwear now offers designers fully cloud-based rendering, powered by V-Ray, straight from VStitcher and Lotta, enabling fast creation of photo-realistic renderings without burden to the personal workstation.
Sketching in 3D: Designers can leave notes and add sketched details using any image editor or drawing tool directly on the 3D style and Avatar. This capability streamlines communication and collaboration with pattern makers and other team members across disparate locations.
Prebuilt library of SmartDesign ready-to-use blocks: With access to a library of basic garment templates, designers at any skill level can quickly and easily create new designs without needing to first create the basic garment block.
"Pinch-and-pull" pattern adjustments: Simplifies and speeds the process of adjusting specific garment areas without inadvertently impacting other simulated pattern pieces.
Flexible garment snapshots: Designers can readily transfer designs to new avatars without re-simulating the entire garment.
"The past few months have proven that digital transformation is not a choice, it's imperative for fashion-related businesses," said Avihay Feld, co-founder of Browzwear. "With the latest updates to our solutions, we're lowering the barriers to entry, both for making the transition and getting to ROI."
Check out a replay of the webinar showcasing the latest updates to Browzwear's 3D design solutions
Users of VStitcher and Lotta can download the new version here.
Learn More