Power to view, interact with and present true-to-life 3D designs across applications opens new opportunities for sustainable, efficient fashion business operations
NEW YORK, JANUARY 23, 2020
Browzwear , a global leader in 3D technology for the apparel industry, today announced the collaboration with Sketchfab , a leading online platform for displaying and sharing 3D content over the internet. The two companies are working together to bring new 3D experiences to the online fashion and apparel market, facilitating the export of true-to-life 3D garments from Browzwear's VStitcher to Sketchfab's high-performance embedded HTML 3D viewer. The new capability opens a variety of opportunities for apparel companies to showcase 3D garments across the web.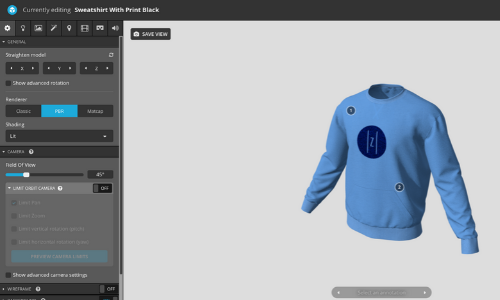 The new capabilities, available in Browzwear's January product update, are enabled by the addition of GL Transmission Format (glTF) compatibility, which facilitates the import and export of 3D files to different applications without loss of quality. Now, glTF files created with Browzwear can be delivered seamlessly and rendered perfectly in Sketchfab's embedded viewer without requiring additional adjustments.
"In giving the apparel industry the most realistic, accurate 3D models, we're enabling a future in which businesses produce fewer physical samples, yet sell more items," said Uri Tzadikevitch, VP of Product at Browzwear. "Every tool we create in partnership with innovators like Sketchfab adds to our customers' ability to increase creativity with efficiency, reduce waste and grow revenue. Combined, this leads to more sustainable businesses, both economically and ecologically."
"Sketchfab has become the de facto standard for publishing and sharing 3D content among a broad swath of the creative community. Partnering with Browzwear enables us to extend our reach into the apparel market as well," said Alban Denoyel, co-founder & CEO of Sketchfab. "We look forward to replicating the success we've had with independent designers and small and medium business in the enterprise market."
Browzwear will be showcasing the latest updates to their 3D design solutions in a Webinar on Thursday, January 30th. To attend, please visit: http://bit.ly/2EstEbT
About Browzwear
Founded in 1999, Browzwear is a pioneer of 3D digital solutions for the fashion industry, driving seamless processes from concept to commerce. For designers, Browzwear accelerates collection development, opening limitless opportunities to create iterations of styles. For technical designers and pattern makers, Browzwear rapidly fits graded garments to any body model with accurate, true-motion material replication. For manufacturers, Browzwear's Tech Pack delivers everything needed to produce physical garments perfectly the first time, and at every step from design to production. Worldwide, more than 350 organizations such as Columbia Sportswear, PVH Group and VF Corporation leverage Browzwear's open platform to streamline processes, collaborate and pursue data-driven production strategies so they can sell more while manufacturing less, which increases both ecologic and economic sustainability. For more information, visit http://www.browzwear.com .
About Sketchfab, Inc.
Sketchfab is the leading technology for 3D visualization for the web, making it easy for anyone to publish and find 3D content online, from individual artists to the world's most iconic brands. With a community of millions of creators who have published millions of models, we are the largest platform for immersive and interactive 3D. The technology integrates with every major 3D creation tool and publishing platform and supports almost every 3D format directly through sketchfab.com or using an official exporter. Using a universal 3D player, your 3D content can be embedded on any web page or publishing platform, from eCommerce to social media.