The fashion industry is constantly evolving, and in an era of innovation, technology has slowly but surely made its way to the forefront. The trends emerging in the design and textile industry seek to transform the traditional design process to focus more on producing high-quality garments with an accelerated time to market.
Many apparel organizations are catching onto the evolving trend of 3D design software for their fashion organization as not only will they contribute to more sustainable practices, but with digital, they can address key priorities such as capturing upcoming trends and operating more efficiently. When evaluating which 3D apparel design software to choose, it is essential to evaluate how the software can better position your organization within such a competitive market.
We have narrowed down 5 important technical aspects to look out for when choosing the ultimate 3D fashion design software for your apparel organization:
Swift Concept Development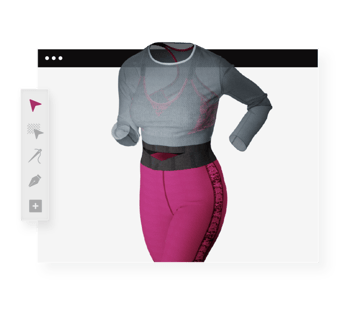 Building a digital prototype allows you to virtually explore your product and test it before taking it to the market. When developing your digital prototype, the design needs to be an exact representation of its physical twin from the fabric's stretch to the fit and drape, " Since utilizing Browzwear's software for the fit process, we have found the accuracy to be of an extremely high level and a realistic representation of how the different styles and cuts of jeans would look when worn on different shapes and size s," says Walden Lam , Co-Founder of digital apparel custom jeans company, Unspun . Therefore, VStitcher's fit, grading, and pattern modification features can achieve an accurate digital twin.
Cre ating a digital twin enables apparel organizations to collaborate effectively across the apparel organization's supply chain from the designer to the manufacturer, ensuring that stakeholders can make early decisions over the digital prototype, assess the fabric drape, styling issues, or, pattern positioning all on one unified platform to have a successful and accurate production-ready sample.
Prioritizing Obstacles
It is important to recognize that when apparel organizations adapt their business model to accommodate digital, they will have to overcome distinct obstacles in fulfilling their 3D design at a pre-production level.
For example, for a company like Superdry, UK contemporary clothing brand that is currently focusing on its sizing strategy, " our initial goal when implementing digital tools into our workflow was for us to have the ability factor in different types of fits within the same body sizing ," says Deborah Painting , Head of Quality & Technical at Superdry , they would have to ensure that they can utilize a customizable parametric avatar that can produce a digital replica of the proportional human body, just like Browzwear's Avatar, Oliva . This is even more so in cases where an organization specializes in designing timeless fashion custom-fit garments like jeans. In that instance, the focus is on achieving an accurate fit, taking into account the drapes, folds, fabrics, and weight of the garment. This requires having the ability to use heat tension and pressure maps to simulate the pressure of the fabric through a color map to contextualize fabrics. Therefore, it is imperative that the 3D apparel design software accommodates solutions to help overcome obstacles that fashion organizations may encounter.
Advanced Visualization & Validation Tools
Visualizing the physical properties of fabric in the digital world may seem hard to conceptualize at first. However, advanced validation and visualization tools in VStitcher bring the true-to-life aspect to the digital garment. T hese 3D fashion design tools reflect the exact physical properties of the digital prototype before even sewing a single seam.
With state-of-the-art fabric digitalization such as Browzwear's Fabric Analyzer, it enables users to determine the exact physical properties of any piece of fabric, from its stretch and texture to its thickness. Apparel designers can visualize how the fabric folds and
falls on a real human body through this technology. The data is then translated into a visual image loaded into design software, VStitcher , and from there, users can create an endless number of true-to-life iterations of the garment, from the physical fabric variations to material visualizations on a customizable parametric avatar where the fit validation process is carried out.
Bret Schnitker , CEO of leading apparel designer and manufacturer Stars Design Group , was amazed by the visualization capabilities of VStitcher, which allowed him to resolve any inconsistencies in their designs before going to production, " with Browzwear, we were soon able to resolve any pattern issues by simply importing the client's pattern into VStitcher, dressing it on a 3D avatar, analyzing the fit and tension of the pattern pieces virtually in a variety of different poses and positions, and readjusting it accordingly ," says Bret.
Instant Feedback & Collaboration
An advantage of digital workflows is that collaboration is easy and fluid from the input of the apparel designers to the consumer. " Since implementing Browzwear along with other complementary solutions, we have experienced faster and more efficient communication between internal and external stakeholders as the majority of pre-sample decisions can be made digitally, saving at least 20% of the time typically spent on sample iterations ," says Lynn Tan , Director of a global manufacturer of activewear for some of the world's most influential brands, Bodynits . Through Browzwear's visualization and showcasing solutions, y ou can share files, receive instant feedback and make quick decisions over a single source of truth. This helps apparel organizations speed up their process and keep aligned throughout the entire product lifecycle from concept all the way to consumer.
Creating an Optimized End-to-End Workflow
It is not enough to digitize one aspect of your workflow when digitally transforming your apparel organization, as your results will not be as effective. The full end-to-end digital transformation reflects a 360-degree change within your organization as the goal is to generate long-term value and successful results. Building an optimized end-to-end workflow is not an independent task for anyone within the organization's supply chain as all department systems must run in parallel for optimized operation and agility purposes.
As digital technology opens up many doors within the apparel industry, organizations like digital apparel custom jeans company, Unspun can leverage a fully digitalized and streamlined workflow from design to production, " As we continue to perfect the integration of our 3D scanning system and VStitcher, we have now been able to hit a rate of 90% with no alterations needed, and with turnaround time being as little as two weeks , " says Walden Lam , Co-Founder of Unspun . D igitally transforming your end-to-end workflow does not mean that you have to eliminate your existing business model, it means you can combine your existing workflows with Browzwear's API as developers can build upon the capabilities of the software to facilitate a hassle-free transition from internal to external systems.
With many factors to consider, there should be no stone left unturned when choosing the right 3D design software for your fashion organization, as meeting the challenge and capturing the opportunity of the digital era is essential for apparel organizations to stay relevant in these ever-evolving times.