Let's face it, many of us hold onto clothes that we once loved, but now, their only purpose is collecting dust at the back of our closets until they eventually end up in a landfill. While this may seem trivial, the more clothes that go to waste, the more we are damaging our environment. In order to combat fashion's growing waste crisis, many creatives in the industry have embraced the concept of repurposing.
Just as it sounds, repurposing means taking a garment and instead of throwing it away, giving it an entirely new purpose. Unlike fast fashion, repurposed garments are typically one-of-a-kind, which instantly increases their value.
Before going ahead and repurposing your garment, you'll want to verify your design concept before beginning the cut and sew process. That way, you can be sure that you can utilize the entire pattern piece, without having to get rid of excess waste. By drafting ideas in true-to-life 3D, you have the ability to create endless iterations until you are satisfied with the result, so you can get a clear idea of what works and what doesn't before sewing a single seam.
For this repurposed garment, we have utilized the inside lining of the original trench coat to add decorative touches to the jacket and skirt set. The lining has been given a more sophisticated gathered detail and fabric manipulation. However, while we have created an entirely new outfit, we have decided to keep the DNA of the classic trench, such as the belt, buttons, and pocket placement to create a unique look.
"This workflow combines technical design with creative thinking, which is what drove me to conduct the process in 3D," says Stefka De Ruiter, 3D Apparel Specialist at Browzwear. "While repurposing clothes using 3D allows you to see how much the transformation can be done in different ways. You can also visualize the pattern pieces better and can really be creative with reconstructing the garment," she adds.
There are limitless opportunities when it comes to repurposing garment designs in 3D, not to mention the positive impact it has on our planet.
"Repurposing clothing is a step towards a new creative outlet for designers, it's pushing us to think even more outside the box before we are even starting the process. It fascinates me how many different variations of one garment can be made in 3D, we created a whole collection based on one trench coat."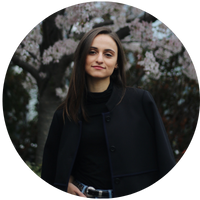 3D Apparel Specialist
Stefka De Ruiter