We just wrapped up our 5th annual Browzwear Night at FIT event and it was a night to remember! Our event brought together a group of talented individuals from the fashion industry, including 3D enthusiasts and our esteemed partners. We all shared one common goal – to discuss the fantastic ways 3D technology is transforming the world of fashion.
The night was filled with inspiring speakers and panelists from leading apparel organizations who shared their experiences, insights, and knowledge on how 3D technology has revolutionized their collection-building and collaboration processes. Seeing the power of collaboration and innovation at work in the fashion industry was truly incredible.
Our speakers also touched on the importance of sustainability in fashion, discussing how 3D technology has played a pivotal role in optimizing work processes, enhancing collaboration, and accelerating time to market – all while reducing waste and the need for physical samples. It was eye-opening to see how this technology is facilitating eco-friendly product creation and helping to make the world a better place.
Overall, our Browzwear Night at FIT event was a huge success, and we're already looking forward to the next one.
Check out all the engaging sessions, tech partner innovations, and workflow demos:
Design Collaboration
Rylee Price, Senior Technical Design Manager, Under Armour
Get ready to be inspired by the incredible work of Under Armour at our recent event! We were thrilled to have them take the stage and share how they've revolutionized their collection-building process with the help of Browzwear's technology. Rylee Price, the Senior Manager of Technical Design, provided valuable insights into how 3D visualization has enabled the brand to test various design options more efficiently and accurately than ever before.
During her session, Rylee emphasized the importance of trust-building in digital product creation. She highlighted the need for quality assurance and ensuring that every team member trusts the virtual product they create, from designers to vendors. Rylee's message was clear – collaboration is key to success, and it means different things for different people, teams, and companies. She encouraged everyone to come together and bring all of the teammates and hands involved in creating apparel to create something extraordinary.
Overall, Under Armour's presentation was a standout moment at our event. We were impressed by their innovative approach to design and collaboration, and we're sure you will be, too.
Adopting Browzwear with Three Simple Tactics
Kelly White, Sr. Manager of Technology Transformation, Kohl's
Prepare to be blown away by the impressive work of Kohl's, one of the largest department store chains in the world. At our recent event, we had the pleasure of hearing from Kelly White, Sr. Manager of Technology Transformation, as she shared how Kohl's has revolutionized their fit and vendor collaboration processes with the help of 3D technology.
Kelly's session was filled with valuable insights into the importance of communication and education in achieving successful adoption and integration of 3D across an organization. She dove into the three tactics that Kohl's employed to achieve their goal of upskilling their design and tech design teams in 3D: understanding, simplification, and communication. Kelly emphasized that taking the time to employ simple tactics can make all the difference in gaining the buy-in needed for a smooth transformation.
"We found that by employing these tactics, you can gain the buy-in you need and make that transformation a little smoother," says Kelly. Her session was a standout moment at our event, and we're sure you'll find her insights into the world of 3D technology both informative and inspiring
The Unexpected Value of End-to-End 3D Workflows
Carolina Haddad, Director of Technical Design, Walmart
Are you ready to learn about the exciting ways Walmart is using 3D technology to revolutionize its product development process? Look no further than Carolina Haddad, Director of Technical Design at Walmart, who shared some incredible insights during our recent event.
Carolina provided a fascinating overview of how Walmart has integrated Browzwear's VStitcher and Stylezone into its product development process. She emphasized the role of 3D in enabling faster decision-making, reducing sample iterations, and improving sustainability by minimizing waste and carbon footprint.
During her session, Carolina highlighted the game-changing ability to view an assortment in 3D, which has led to some exciting ideas and innovations within the company. She also shared how the onboarding process for new employees has been made more efficient, and legal reviews now take only 30 minutes instead of a day and a half – a phenomenal time savings!
Overall, Carolina's session was a standout moment at our event, providing valuable insights into the power of 3D technology in the retail industry. If you're interested in learning more about how Walmart is changing the game with its use of 3D, you won't want to miss this.
Creative Challenges to Creative Opportunities in 3D
Panel Discussion
Prepare for an insightful panel discussion exploring the creative challenges and opportunities of using 3D technology in fashion design! The highly noteworthy session featured Dtech Lab, an R&D center at FIT, represented by its Director, Michael Ferraro.
During this engaging session, Michael engaged in a fascinating conversation with a professor at FIT, Tetsuo Tamanaha, and two Browzwear Guild members, Calvin Padilla and Daryn Huang. Together, they discussed their unique 3D journeys, presenting specific examples of garments and showcasing how 3D technology can augment creativity and experimentation in fashion design.
Throughout the discussion, the panelists touched on some of the challenges of using 3D technology in fashion design, highlighting the many creative opportunities it presents. It was an eye-opening discussion that provided valuable insights into the ever-evolving landscape of fashion technology.
If you're interested in learning more about how 3D technology is changing the way we think about fashion design, this panel discussion will not be missed!
Streamlining Vendor Collaboration
Panel Discussion
Prepare for an insightful panel discussion on streamlining vendor collaboration in fashion design! Our event featured an expert panel of industry representatives, including Topher Harris, Project Manager at Komar, Ekaterina Bryzgalina, Associate Technical Designer at Golden Touch, Elizabthen Al Shehabi, Senior Director of 3D at Delta Galil, and Avani Patel, Technical Design Director at Gran.
Moderated by Jamie Campbell, Client Success Manager at Browzwear, this panel discussion was filled with valuable insights and best practices for making 3D a competitive edge for brands and retailers. The panelists emphasized the need for flexibility, customization, and scalability in their solutions and the importance of collaboration and partnership with their clients.
Throughout the discussion, the panelists shared their experiences and strategies for streamlining vendor collaboration and optimizing the use of 3D technology in the fashion industry. It was a thought-provoking discussion that provided valuable insights into the latest trends and best practices for working with vendors and retailers.
You won't miss this panel discussion if you want to learn more about collaboration and scalability in fashion design!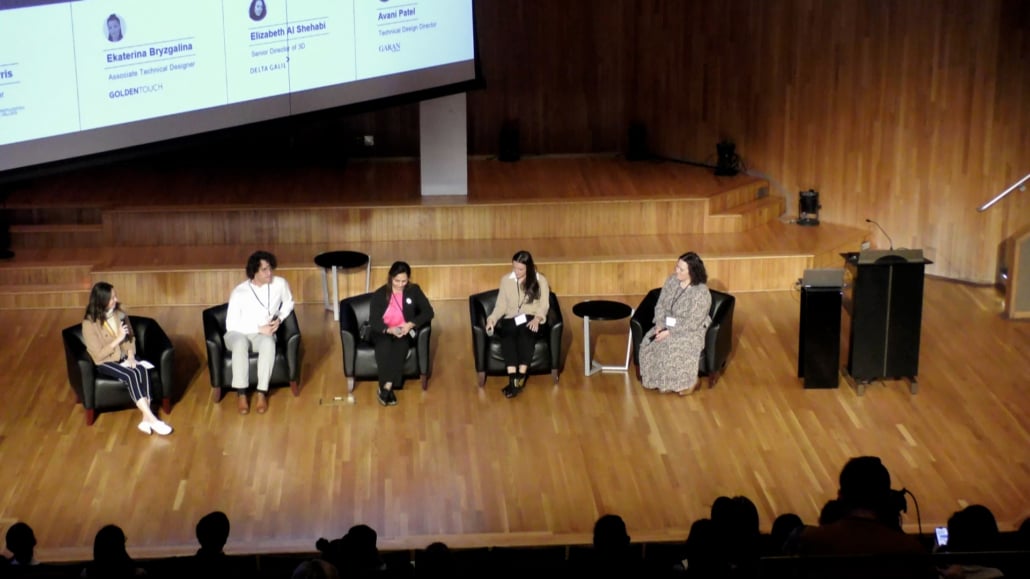 Browzwear Night at FIT 2023 was a resounding success, showcasing the power of collaboration, innovation, and technology in transforming the fashion industry. The event demonstrated how 3D can enhance creativity, efficiency, and sustainability in apparel design and production, while also creating new opportunities for growth and differentiation for brands and retailers. It was truly inspiring to see so many industry leaders and enthusiasts come together to exchange ideas and insights. Once again a huge shoutout to our speakers, panelists, Browzwear team, and supporting technology partners – we can't wait to see what the future holds for the next Browzwear Night at FIT!
BROWZWEAR
ENABLES APPAREL COMPANIES TO
DIGITALLY TRANSFORM
THEIR BUSINESS