Tetsuo Tamanaha is an Assistant Professor at the Fashion Institute of Technology in New York who is passionate about the arts and fashion, specifically historical costumes. While studying costume production at the graduate school at Boston University, he decided to base his thesis on recreating the patterns of historical costumes using modern apparel technology.
Following his studies, Tetsuo pursued his passion for costume design and began working for theatre companies as a pattern maker, specializing in draping. After several years in the industry, with extensive experience in costume design under his belt, Tetsuo looked to share his unique skillset with the next generation of apparel designers, taking on a role at the Fashion Institute of Technology in New York.
It was at this point that he was first introduced to Browzwear's 3D design technology and the concept of 3D apparel design, at the university's DTech Lab . "Browzwear's VStitcher goes beyond just creating a pretty picture, " says Tetsuo. "It provides such a level of accuracy that empowers designers and pattern makers to make informed decisions over their designs and trust in the results," he adds. Ten years on, Tetsuo continues to educate students as an Assistant Professor for the Fashion Design Department, utilizing VStitcher for pattern construction and fit analysis.
Tetsuo sought to bring back what he had learned at graduate school to the students at FIT. He proposed the idea of restoring historical garments that were kept in the university's museum with 3D apparel technology, and the museum curator was eager to collaborate. " The idea that historical garments can be revived in a 3D environment is truly fascinating, and being able to collaborate with the FIT museum was an extremely exciting and unique opportunity, " says Tetsuo. " FIT has a vast number of costumes that should be taken advantage of by both the students and the faculty members. This project opens the door for the museum to offer their collections to students so that they can collaborate and work with historical garments in different ways and bring them back to life through the art of 3D ," he adds.
The collection for this project was made up of two Balenciaga dresses as well as one Christian Dior dress. Tetsuo kicked off the design process by examining the details of the garments, before moving on to pattern drafting. Once he felt confident about the design, he created the patterns in 3D, perfected the draping, and finally simulated the garments.
We were excited to have had the opportunity to sit down with Tetsuo Tamanaha to gain insight into his inspiring journey as he continues to make an impact within the fashion industry through the unique and powerful combination of history, technology, and fashion.
" The transition from traditional methods to 3D is creating a significantly impacting the industry. Instead of cutting muslin and creating physical prototypes, 3D offers more advanced and efficient alternatives and is soon becoming an industry standard. Learning 3D still takes a lot of practice and work, but once you have mastered the art of 3D, the outcome of your work is enhanced ."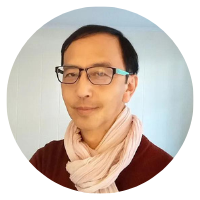 Assistant Professor at the Fashion Institute of Technology
Tetsuo Tamanaha