Stretching the Boundaries of True-to-Life Garment Creation in VStitcher with The Lycra Company
In the fashion world, fabrics are the key ingredient for setting the tone on how designers visualize their garments and express their creativity. From a simple legging to a more complex T-shirt, fabrics have the ability to make the same design look entirely different. When it comes to choosing the right fabric in your 3D fashion design process, it's about finding the perfect fit, stretch, and bend that moves perfectly in sync with any body type resulting in long-lasting, comfortable, and high-quality garments. Now, imagine taking this fabric and leveraging the true-to-life details in the digital world.
We are delighted to expand our digital ecosystem and partner up with the global leader in innovative and sustainable fiber and technology solutions for the apparel and personal care industries, The LYCRA Company , bringing all VStitcher users high-quality, true-to-life digital performance fabrics.
With this partnership, Browzwear users can now access a variety of LYCRA and COOLMAX brand fibers, which have been created to reduce waste and keep materials in use longer. With over 200 spandex fibers available in our Asset Library, each fabric has its own unique quantities of spandex in each garment that results in enhanced clothing performance and ensures the ultimate fit.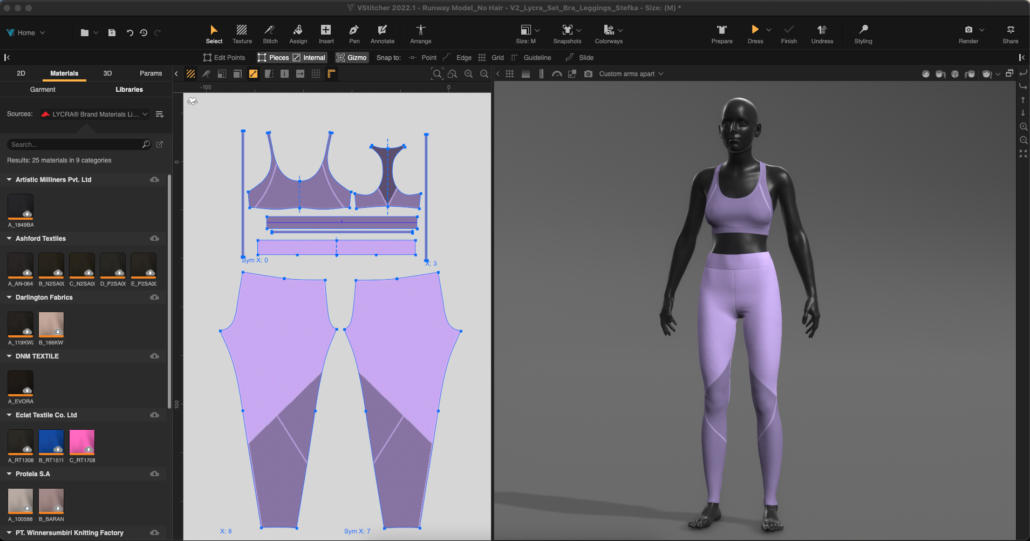 LYCRA's digital fabrics in VStitcher's asset library
These fabrics have been designed to give VStitcher users the ability to design activewear, denim, swimwear, and intimate apparel fashions in a way that the fit, stretch, bend, and drape of the garment are accurately presented in true-to-life 3D. In addition, all the fabrics have been tested and certified by the FAB to confirm they contain authentic fibers that offer consumers long-lasting comfort and performance.
We can't wait for you to get your hands on these innovative and sustainable fabrics, designed by the global leader in spandex innovation, bringing comfort and long-long-lasting elements to your creative workflow. More digital fabrics from The LYCRA Company are in the works, so be sure to keep your eyes peeled.
The Lycra Company's library collaboration is part of Browzwear's 2022.1 Edition update launching on August 9th, 2022.
Learn More