About the Company
Since 1975, Delta Galil Industries has been a global leader in manufacturing and marketing private label apparel for men, women, and children. Offering an extensive range of tailor-made products, including intimates, kidswear, activewear, and socks, Delta Galil has contributed to the success of some of the world's most renowned retailers such as Nike, Victoria's Secret, Walmart, and many more. With a commitment to growth, quality, creativity, and innovation, the company takes pride in its social and environmental responsibilities.
Paving the Way for Innovation
Delta Galil's search for a digital solution began several years ago as the company recognized that digitizing processes was ultimately the next natural step for a sustainable industry. Initially, the focus was on adopting a 3D solution that would enable the Cut and Sew process to be conducted digitally to save time and reduce textile waste throughout the design cycle. As sustainability is a core value for Delta Galil, the different departments were open to the idea of adopting new processes. Therefore, in 2018 the company embarked on its digital transformation journey with Browzwear to put its values into practice.
Incorporating 3D
The digital team at Delta Galil began to experiment with Browzwear's 3D design software, VStitcher, to understand how to navigate it for different purposes and decide how to distribute it across departments. "We were aware of the benefits that 3D could bring to the table; it was now up to us to decide how to spread it in the right way to make it happen," says Oshrat Ben-Isaac, Computational Designer at Delta Galil. To skill-up in VStitcher, the designers and pattern makers started by recreating existing garments and seeing exactly how each piece of the fabric comes together digitally.
During the 3D adoption phase, the company was unexpectedly faced with a unique set of challenges posed by the pandemic's onset in late 2019, significantly impacting the manufacturing and supply chain. Although 3D was still a work in progress at Delta Galil, the tools were in place, and the teams were ready to scale up and advance on their digital journey. "The onset of the pandemic caught us prepared, we had the tools, we had the knowledge and skill, we were ready to accelerate our efforts and double down on 3D," says Michal Marionovksy, Business Unit Senior Director at Delta Galil. Over the first few months of 2020, the digital design team took the time to freshen up their software skills and teach other members by building a program that combined their acquired knowledge with Browzwear's e-learning platform, Browzwear University. "We began by identifying who the digital champions from each department would be within the company, and that way, we could spread the knowledge across the board," adds Michal.
The departments worked closely with VStitcher to produce digital salesman samples. "When working with VStitcher, I can see all the sizes, colors, styling, and more, with just the click of a button. The visual capabilities are endless. I can immediately see what works and what doesn't without having to create a physical garment first," says Dan Robenko, Fashion Designer at Delta Galil. Not only did the implementation of digital tools work to cut down textile waste throughout the design cycle, working with VStitcher allowed both pattern makers and designers to express their creativity, another core value for Delta Galil, and experiment with different patterns. "With Browzwear's software, I was able to take an existing basic pattern from a t-shirt and transform it into an entirely different, well-fitting shirt," says Diana Dellgadilo, Pattern Maker at Delta Galil. "Whereas the Cut and Sew method usually would take a week or so when creating a salesman sample, with 3D, we can create three different versions within just two days," adds Diana.

Throughout the second half of 2020, the teams at Delta Galil continued working on mastering their 3D skills, using virtual samples as a key selling tool before the prints and fabrics were even ready. In fact, some of their customers have already started to utilize these virtual samples as internal selling tools, replacing actual samples. "By removing the initial physical sampling process, we're able to save a significant amount of time and resources, as all of the back and forth changes could be made on the digital garment first," says Oshrat. "Another reason as to why we have been able to speed up much of the process is through faster and more effective communication between departments, making it much easier to share thoughts and ideas throughout each stage of the design cycle," she adds.
Looking Towards a Digital Future
As we look toward the future, building upon the current 3D processes and broadening the scope of digital tools is certainly a priority for Delta Galil. "Although we are still in the early stages of the adoption process, there is no doubt that we have already seen and experienced the benefits of 3D, and now we are ready to take what we have in place to the next level," Oshrat notes. "As we prepare for the future, we want to get to the stage where all of our garment presentations are made with Browzwear and ensure that all of our customers have their own, unique digital roadmap," adds Michal. In order to achieve their goals, the teams at Delta Galil are determined to master the fit of the digital garments and work on the visual appearance of the 3D images to make them as realistic as possible. "We want our customers to be able to feel what they see on the screen and get the digital twin of the fabrics to that level," adds Oshrat.
Benefits Of 3D For Delta Galil

Faster and more efficient communication between departments

Easier to share thoughts and ideas throughout each stage

Significant reduction of both time and resources

Sample iterations can now be carried out digitally
"By removing the initial physical sampling process, we're able to save a significant amount of time and resources, as all of the back and forth changes could be made on the digital garment first. "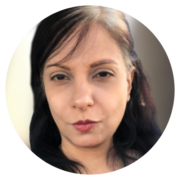 Computational Designer at Delta Galil
Oshrat Ben-Isaac
"As we prepare for the future, we want to get to the stage where all of our garment presentations are made with Browzwear and ensure that all of our customers have their own, unique digital roadmap."
Business Unit Senior Director at Delta Galil
Michal Marionovksy